K-5th Special Needs Online School Program For All Students

1 Kids Zone special needs online school program meets California education standards. This will help your child perform well in Language and Mathematics.
In Language Arts, we will be working on…
Beginning to use sounds for reading and writing
Discussing the main ideas in stories
Predicting story outcomes and events
Retelling stories
Expanding vocabulary
Improving oral expression
Using pictures and written language to share ideas
Develop phonemic awareness
Introduce high-frequency words
Experience the correct formation of manuscript letters
In Mathematics we will be working on…
Understanding the concepts of addition and subtraction
Developing math vocabulary
Exploring sequential patterns
Becoming aware of the concepts of time
Using simple graphs to record information
Geometry, pre-algebra, algebra, and more solving math problems with parentheses
Using calculators to explore number concepts
In Science, we will be working on…
Identifying, observing, and describing plants and animals
Caring for classroom fish
Grouping, sorting, and matching objects according to attributes
Heightening awareness of the 5 senses
Observing and describing the characteristics of the changing seasons
Learning about a freshwater habitat
Appreciating and enjoying nature
In Social Studies we will be working on…
Understanding our place in the family
Becoming familiar with our school community
Learning about our neighborhood and community helpers
Understanding the importance of rules
Heightening awareness of the similarities and differences between people
Exploring means of transportation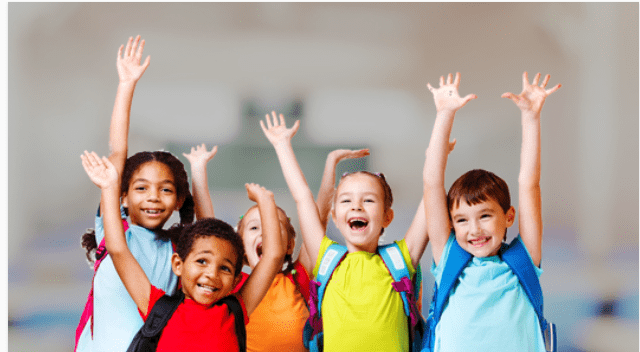 Communicating with Others
Kids Zone helps your child improve important language skills. We use daily journal activities to practice writing skills, help your child's early reading skills by connecting sounds to letters through picture and word collages, and teach basic sight words in a fun and engaging ways, that develop phonemic awareness through literacy-based games, books, and puzzles.
Making New Friends in a Special Needs Online School Program

We provide opportunities for your child to practice social and emotional skills. We use character-building activities to help identify emotions.  We have group discussions to practice sharing ideas, thoughts, and feelings. The story gives your child the opportunity to cooperate, negotiate, problem-solve, and make independent choices.
We encourage your child to explore different materials which help your child create opportunities to ask and answer open-ended questions.
We help your child refine motor skills. We use lacing cards, stencils, and writing activities to enhance fine-motor skills: strengthen coordination and gross-motor skills through running, jumping, and throwing activities, which will improve balancing skills using hula hoops and balance beams, and offer healthy food choices for snacks and meals.
We encourage your child to think and create. We provide numerous opportunities for your child to represent ideas through drawing and writing stories, invent unique dance moves, use props to dramatize stories, and express.
According to a California education standard assessment, most students who attended kindergarten tested fully ready for first grade. They performed well in Language and Mathematics.